World AIDS Day 2021: End Inequalities. End AIDS. End Pandemics.
This year India marks 35 years since the first case of AIDS was reported, and 17 years (2004) since free ART medication was introduced by the Government of India for the management of HIV/AIDS among people living with HIV. India HIV/AIDS Alliance (Alliance India) was founded in 1999 to operate in partnership with Government, Non-Governmental Organisations and community-based organisations to support sustained responses to HIV in India that protect their rights and improve health. Since the first case of HIV was detected, India has made significant development in fighting the HIV/AIDS epidemic. The tireless efforts of communities, Government, NGOs/ CBOs have resulted in extraordinary progress and the impact reflects in the data, for example, HIV prevalence among Key Populations has significantly decreased during the period 2010- 2017. The rate of HIV transmission declined among Female Sex Workers, from 2.7% to 1.5%, among Men Who Have Sex with Men, from 4.4% to 2.6%, among Injecting Drug Users, from 7.1% to 6.2% and among Transgender people, from 8.8% to 3.1%.
This reduction of infection among key populations is noticeable and very importantly the AIDS-related deaths have decreased by 66% annually from 2010-2019 in India while the global average was 39% which means the efforts made to fight the epidemic were highly noteworthy in India. Currently, an estimated 2.3 million people are living with HIV in the country and out of that, 76% know their status, out of those who know their status, 86% are on treatment. India is working towards the achievement of Sustainable Development Goal (SDG) 3.3 for ending the AIDS epidemic as a public health threat by 2030. Alliance India is committed to contribute to the SDG and implementing various interventions across the country including Vihaan Care and Support programme.   Vihaan Care and Support programme is in the 4th phase of its implementation (April 2021 to March 2024) with the goal to accelerate National HIV response in reaching 95-95-95 targets through community led, right based prevention to care approach. Currently, Alliance India is implementing Vihaan programme with 6 Sub Recipient (SR) and 310 Sub-Sub Recipient (SSR) partners across the country. Vihaan programme has six major components i.e. virtual interventions among key populations, community system strengthening for key populations, prevention of linkages loss, care and support, community system strengthening for People Living with HIV, and private sector engagement.
In the same context, Alliance India observed World AIDS Day 2021 across the country with SR and SSRs in the month of December 2021 and conducted various activities at State and District levels.
Every year, on 1 December, the world commemorates World AIDS Day. People around the world unite to show support for people living with and affected by HIV and to remember those who lost their lives to AIDS. The theme of World AIDS Day 2021 was "End Inequalities. End AIDS. End Pandemic".
Alliance India focussed its HIV interventions in the state of Mizoram and commemorated World AIDS Day 2021 through an interactive event in Aizawl (Mizoram). Dr R. Lalthangliana, Hon'ble Minister of Health & Family Welfare, Mizoram launched our book titled "SCRIPTING CHANGE: Alliance India's COVID Response" as a part of the World AIDS Day commemoration event held in Aizawl (Mizoram).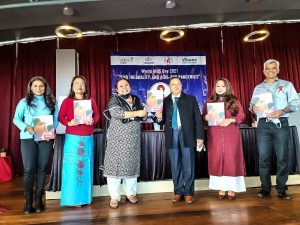 In New Delhi, Alliance India was part of National World AIDS Day commemoration event organised by National AIDS Control Organisation (NACO).  Alliance India had also put up a stall at Dr Ambedkar International Centre as part of the event to raise awareness on the issue.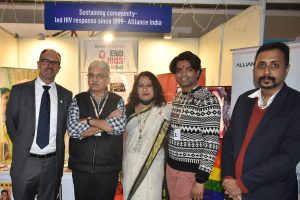 In Guwahati (Assam), Shri Keshab Mahanta, Health Minister, Government of Assam was presented the book "Scripting Change-Alliance India's Covid Response" in the event organized by Alliance India and Assam Network of People Living with HIV.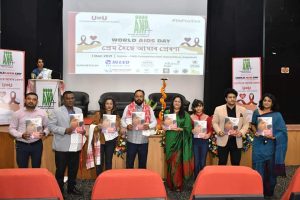 This book contains the efforts made by Alliance India along with its SR and SSR partners to fight COVID-19 and HIV during the lockdown period in coordination with the National AIDS Control Programme.
As COVID-19 related restrictions hampered HIV service delivery drastically in the field, an immediate advocacy strategy was developed by Alliance India as a result of which different services were delivered to People Living with HIV (PLHIV) at their doorstep.  In Gandhinagar (Gujarat), Shri Rushikesh Patel inaugurated the "Samudayik Samanta Karyakram" event with the aim to spread awareness about HIV/AIDS.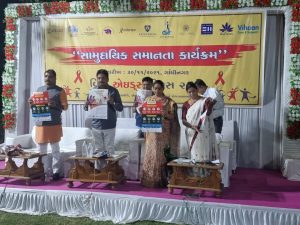 He shared that Gujarat is the first state where 9 CSCs are supported by the Government of Gujarat for the betterment of the PLHIV community.
Shri Prabhuram Choudhary, Cabinet Minister, Public Health and Family Welfare of Madhya Pradesh inaugurated "Community Samvad" in Bhopal on 1st December 2021. The event aimed to end the economic, social, cultural and legal inequalities related to AIDS and to bring change in political, economic and social policies for protecting the rights and needs of marginalised communities.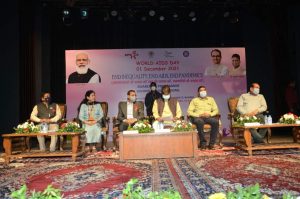 In Jaipur (Rajasthan), Shri Parsadi Lal Meena Cabinet Minister, Medical Health and Services inaugurated state-level World AIDS Day event at HCM Rajasthan State Institute of Public Administration.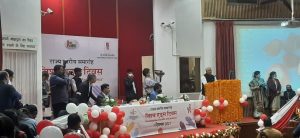 Vihaan SR partner, Gujarat State Network of People Living with HIV was felicitated in the events held in Rajasthan, Gujarat and Madhya Pradesh.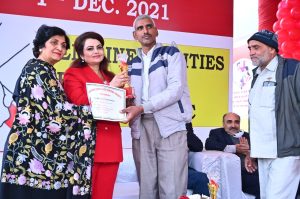 A state-level virtual consultation meeting was facilitated by Vihaan SR partner Tamil Nadu Network of Positive People and Tamil Nadu State Legal Services Authority on 22 December 2021 on optimizing the utilization of free legal aid services by PLHIV.
The district partners observed World AIDS Day across the country i.e. in Panchkula (Haryana), Jammu & Kashmir, Amritsar, Patiala, Ludhiana, Pathankot, Bathinda, Firozpur, Tarn Taran (Punjab), Imphal (Manipur), Silchar, Cachar, Guwahati (Assam), Tripura. In other districts like Bikaner, Jodhpur, Jalor, Bhilwara, Pali, Sri Ganganagar, Barmer, Banswara, Jaipur, Kota, Jhunjhunu, Ajmer, Udaipur (Rajasthan), Khandwa, Ratlam, Jabalpur, Rewa and Ujjain (Madhya Pradesh), Meerut, Lucknow, Varanasi (Uttar Pradesh), stakeholder meetings with district administration, health department, women and child development department, social justice department, awareness rally, cricket match, support group meetings, poster and quiz competition and signature campaigns were conducted on the eve of World AIDS Day. District administrations of Indore, Jabalpur and Ujjain issued appreciation letters to CSCs for their contribution.
~Written by Dr. Sukhender Kumar, Programme Officer: Care & Support, Alliance India.