Empowering Lives during Unrest l Our Commitment to Manipur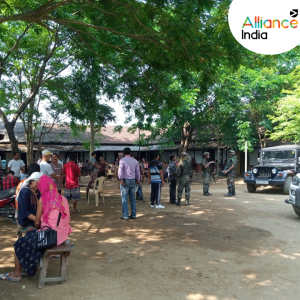 The figures provided below represent the cumulative data as of 2nd June 2023.
Supporting People living with HIV
During the challenging times of unrest in Manipur, Alliance India stands tall in its mission to provide assistance and support to those in need. Working hand in hand with the Manipur State AIDS Control Society (MSACS), Alliance India's Vihaan team in Manipur, led by the Project Director MSACS and guided by the Joint Director of the Care and Support programme, is committed to enabling uninterrupted access to ART medicines during times of crisis. Under the Vihaan Programme, Alliance India in association with MSACS has been instrumental in helping people living with HIV access vital ART drugs. Here's a glimpse of our impactful interventions:
Telephone Support: Alliance India's team reached out to 1,873 clients over the phone. During these calls, clients were inquired about the availability of essential drugs and provided with vital information regarding nearby Antiretroviral Therapy (ART) drugs availability. This telephonic support proved instrumental in addressing clients' concerns and ensuring access to life-saving medications.
Home Delivery: Recognising the importance of uninterrupted treatment, Alliance India's Vihaan staff delivered ART drugs directly to the homes of 699 clients. By eliminating the need for clients to travel, this service has greatly enhanced convenience and adherence to treatment regimens.
Fixed Site Distribution: Alliance India's commitment to accessibility is evident through the supply of ART drugs at pre fixed sites, benefitting 29 clients. These designated sites provide a convenient location for clients to access their medications promptly.
Relief/Security Camp Support: In situations where clients found themselves in relief or security camps, Alliance India extended their assistance. They ensured that 12 clients in these camps had access to their essential ART drugs, prioritising their health and wellbeing.
Client Pickup: Alliance India facilitated 49 clients in collecting their ART drugs directly from the homes of Vihaan staff. This personalised approach showcases their dedication to tailor services according to clients' specific needs.
Targeted Interventions: In collaboration with the Targeted Interventions programme, Alliance India successfully delivered ART drugs to 35 clients. This collaborative effort highlights the organisation's commitment to forging partnerships and leveraging resources for the betterment of those they serve.
ARTC Collection: Through effective communication and coordination, Alliance India assisted 328 clients in collecting their ART drugs from the ARTC (Antiretroviral Therapy Centre). By ensuring seamless information flow, clients were empowered to access their medications conveniently.
Community Volunteer Support: Alliance India's extensive network of community volunteers played a crucial role in delivering ART drugs to the homes of 8 clients. These volunteers exemplify the spirit of compassion and community engagement, making a positive impact on individuals' lives.
The tireless efforts of Alliance India and their remarkable accomplishments in Manipur reflect their unwavering commitment to improving the lives of those affected by HIV/AIDS. By employing a diverse range of interventions, they have reached 3,033 clients, ensuring access to essential ART drugs and support services. Together, we can create a world where no one is left behind in the fight against HIV/AIDS.
Together We Stand
Alliance India remains committed to empowering the lives of people living with HIV, even in the face of challenges. We are grateful for the tireless efforts of our team and the unwavering support from the community.
Join Us in Making a Difference!
Alliance India through its work has positively impacted the lives of numerous individuals in Manipur. Through various modes of intervention, a total of 3,033 people living with HIV have been reached, providing them with crucial support and services.