National Youth Day 2022: Support us today to support your tomorrow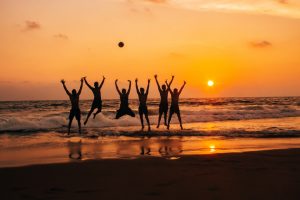 National Youth Day is observed on January 12 to observe the birth anniversary of Swami Vivekananda. This particular date is also known as 'Yuva Diwas'. Swami Vivekananda's speech at the World Religion Conference in Chicago in 1893 is still considered the most effective speech given by any Indian.
We all know that the youth or adolescent phase of our life is the most important phase of our life; to explore ourselves, to start to know the rest of the world we are surrounded by and most importantly to take decisions considering our future and the lifestyle. Swami Vivekananda always thought of a society, where youth populations can positively lead their life, which can lead the society with more positivity and ensure strategies for securing everyone's life.
In today's world, we are living in a very complex era considering the Covid pandemic and other hazards affecting our daily life. Considering the youth populations, let us learn about some alarming factors as stated by the World Health Organization (WHO) –
In 2019, over 1.5 million adolescents and young adults aged 10–24 years, i.e., nearly 5000 every day
Injuries (including road traffic injuries and drowning), violence, self-harm and maternal conditions are the main causes of death among adolescents and young adults
Half of all mental health disorders in adulthood start at the age of 14, though most of these cases remain undetected and untreated
Also, people of younger ages are disproportionately affected by substance use compared with people of older ages
A recent UNICEF survey has revealed that around 14% of 15 to 24 year-olds in India, or 1 in 7, reported often feeling depressed or having little interest in doing things. The survey also discovered a reverse trend in terms of seeking support by the young age groups (15 to 24 years) regarding seeking support to address their mental health concern. It says, especially in the Covid context, the youth of the same age group (15-24 years) in India are reticent to seek support for mental health issues. Whereas, as an average 83% of the young people (ranging from 56% to 95%) in 21 countries are in favour of seeking support for mental health problems.
Being in the current Covid pandemic and the challenges mentioned above, it is for every one of us to understand the importance of the necessary supports, required for the young people, to address and solve the challenges they are facing daily.
Alliance India implemented a short pilot project (2018-2019) named 'READY++' in five states covering 20 districts of Manipur, Rajasthan, Uttar Pradesh, Maharashtra and Delhi. Through this important initiative, it was revealed that adolescents of all ages and gender, including sexual minority groups, need to have comprehensive knowledge of their sexual health rights and responsibilities. Alliance India is continuously trying to address and work for the challenges faced by the young groups, considering their healthcare and other major concerns.
There are many organizations in India working for the young age groups, belong to HIV affected key populations and other subsets. The government is also trying to provide the necessary support for them. Our Honorable Prime Minister Shri Narendra Modi will inaugurate the 25th National Youth Festival on 12th January 2022 in Puducherry, which will have an objective to shape the minds of India's youth and transform them into a united force for nation-building.
Let us consider conducting more research and surveys among the different youth groups. Hence, based on these findings, important initiatives can be taken up, for working on their overall well-being. To ensure the same, we also need an integrated and inclusive service delivery approach in the area of healthcare, education, livelihood and legal aid, through necessary capacity building and awareness generation activities.
Finally, we need to remember the great quote of Swami Vivekananda – "Talk to yourself once in a day, otherwise you may miss meeting an intelligent person in this world." So let us talk to ourselves, let us explore ourselves to identify our strengths and skills and that need to be utilized, not only for securing our own lives but for everyone, whoever is deprived or marginalized in our society based on gender, sexuality, race, class, caste and colour.
~Written by Amrita Sarkar, Advisor: Transgender Wellbeing & Advocacy, Alliance India.